High-converting affiliates are simply better PREsellers. They don't just throw up an ad, and they don't write a sales pitch. They write reviews, tours, guides, or other kinds of articles. They talk to their audience, they do not sell.
Understanding the critical difference between "selling" and "PREselling"
What's the difference?
"Sell" is what Web pages do, which is essentially the conversion of a visitor into a customer. That's the job whiche the sales page doe.
If you duplicate the sales process on YOUR Web site, blog, etc., you will alienate your visitors. They don't see the inspiring, editorial content they are searching for. Instead, they see a sales effort, and they feel "pitched".
People resist sales efforts, so click-throughs actually go down. And if visitors do click through, what do they see when they arrive the vendors sales page? More sales effort. And, to top it off, many of the words are similar to the words that they've just read on your site.
Result?
Resistance, then Click – off they go.
There is so much "junk" out there and people have been burnt so often, whether it's falling for GRQ or by trying conventional Web hosting or by trying blogging, both of which offer that "quick-cheap-easy" approach that indeed gets a site up fast.
There is a free E-book – no sign-up required Make Your Content PREsell!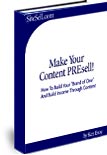 So what is PREselling?
Effective PREselling is the presentation of unique, editorial content, blending in naturally the benefits of a product or service as they pertain directly to your audience's unique needs. That leads gently to an honest recommendation that clearly highlights all the positives and negatives of a particular product.
Why would you present negative features when you want to earn referral income from that product?
Here's why…
1. you are looking out for the best interest of your visitors
2. you are familiar with the product, clearly showing that you are qualified to discuss it in an impartial manner.
No product is perfect, and people accept that reality. As long as the benefits are powerful, and outweigh the few negatives, your audience will appreciate your balanced presentation.
The crux of PREselling
Get the click-through with an "open-to-buy" mindset.
Any time you PREsell get inside your visitor/audience's mind – how will she perceive your effort? Will she see it as a recommendation from a good friend, or a blatant sales pitch?
Ask yourself…
"What type of recommendations do I respond to?"
Whatever it is that you do, first consider the impact on our visitor – if it does not make her mindset "open-to-buy," don't do it.
Rebranding is a very good tool for preselling.
Back from Preselling to Affiliate Tips.